When it comes to the opportunity to intimately explore some of the planet's most colossal superyachts, the Monaco Yacht Show is truly unparalleled. The array of exceptionally large yachts showcased at Monaco Yacht Show 2022 is more astonishing than ever.
AHPO
Before its official debut at the Monaco Yacht Show 2022, there was speculation that the 376-foot-long superyacht known as "Project Enzo" was crafted by Lürssen as a tribute to Enzo Ferrari. Italian superyacht designers Nuvolari–Lenard seemed to have captured the essence of the LaFerrari supercar in the design. Now, as AHPO takes the title of the largest yacht at this year's show, visitors can witness this for themselves. Additionally, attendees will have the opportunity to explore Lürssen's innovations, including a virtual tour of the company's Innovation Lab and a unique model explaining fuel cell technology.
AHPO, a remarkable 115-meter superyacht, was custom-built for a returning client who had previously owned an 86-meter Lürssen yacht. The client's requirements included top-tier design and engineering, along with sea-worthy comfort for family enjoyment. Once again, the client entrusted the design expertise of Nuvolari–Lenard for both the exterior and interior, resulting in AHPO's distinctive appearance. The primary goal was to create a yacht that promotes a healthy and family-oriented lifestyle on board, featuring numerous sports and recreational amenities such as an expansive gym on the sky lounge deck and a spacious wellness area on the lower deck. AHPO was meticulously designed to offer unrivaled comfort during her voyages, and, like all Lürssen yachts, boasts cutting-edge technology and engineering systems. For instance, the generators are equipped with a heat recovery system that heats the pool water, reducing electrical power consumption and emissions. Additionally, dynamic positioning technology allows for electronic anchoring in ecologically sensitive and remote areas, safeguarding the seabed and enabling secure mooring in varying water depths.
PHOENIX II
PHOENIX II, an impressive superyacht stretching to nearly 300 feet in length, showcases the collaborative craftsmanship of Winch Design and the renowned German superyacht specialists at Lurssen Shipyard. Notably, this is not the first joint endeavor between these two esteemed companies. The yacht's owner was so delighted with the initial vessel that it came as no surprise when the teams at Winch and Lurssen were tasked with creating an opulent interior inspired by the Art Deco style. However, while the original yacht drew inspiration from French Art Deco, Phoenix II embraces the unique Art Deco aesthetics of New York, including iconic landmarks like the Chrysler Building, Radio City Music Hall, and Broadway. This vessel, larger and more daring than its predecessor, was proudly presented at the Monaco Yacht Show 2022 by Burgess.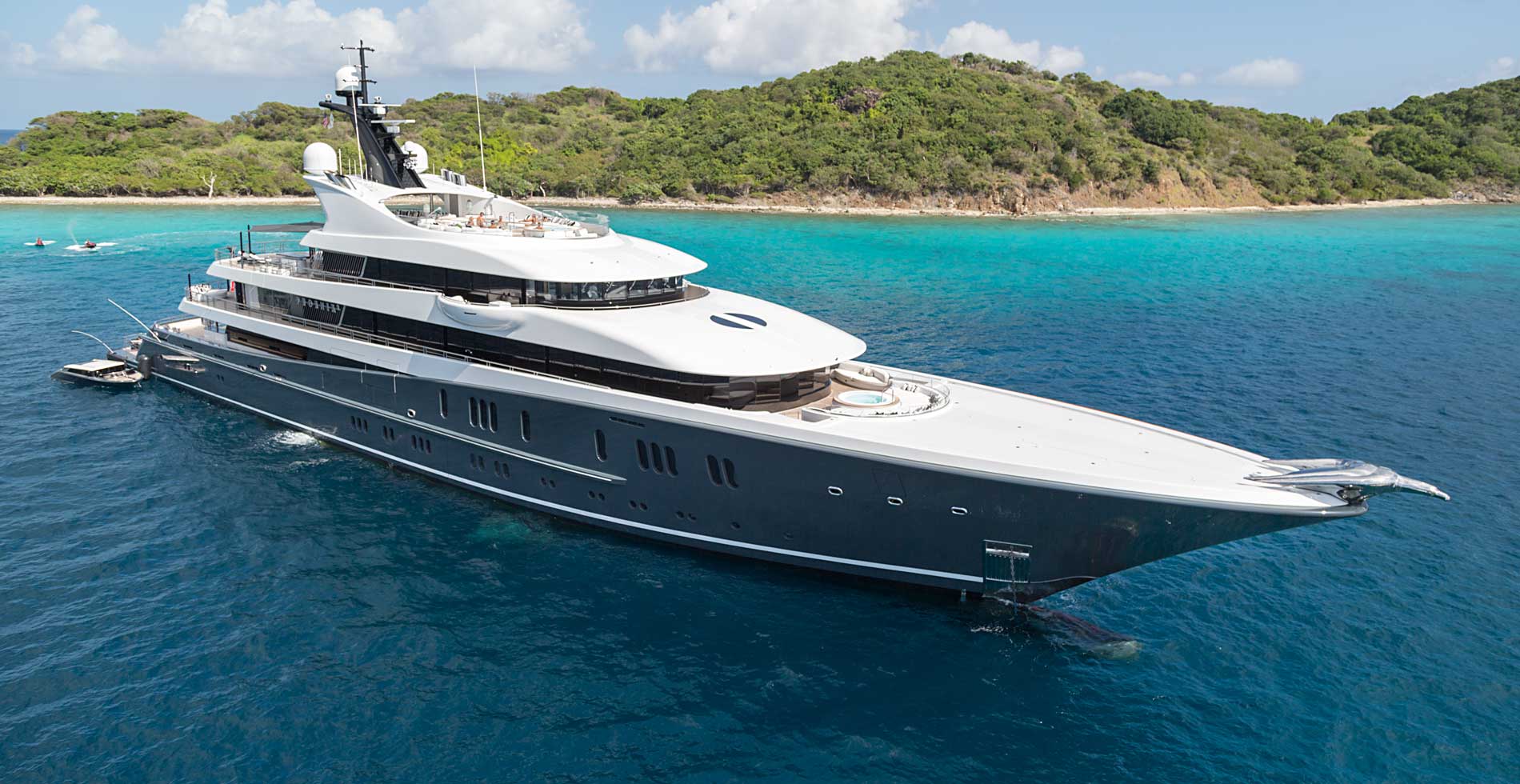 Phoenix II
HERE COMES THE SUN
HERE COMES THE SUN has held the prominent position in the Amels fleet since its initial launch in 2017. Following a substantial refurbishment and hull extension carried out by Damen Yachting to cater to the new owner's specifications, the yacht has been enhanced to surpass its previous glory. HERE COMES THE SUN now boasts an impressive length of 291 feet and incorporates substantial layout enhancements. These include expanded beach club and spa facilities, the capability to accommodate a helicopter on the sun deck, and a freshly applied coat of paint.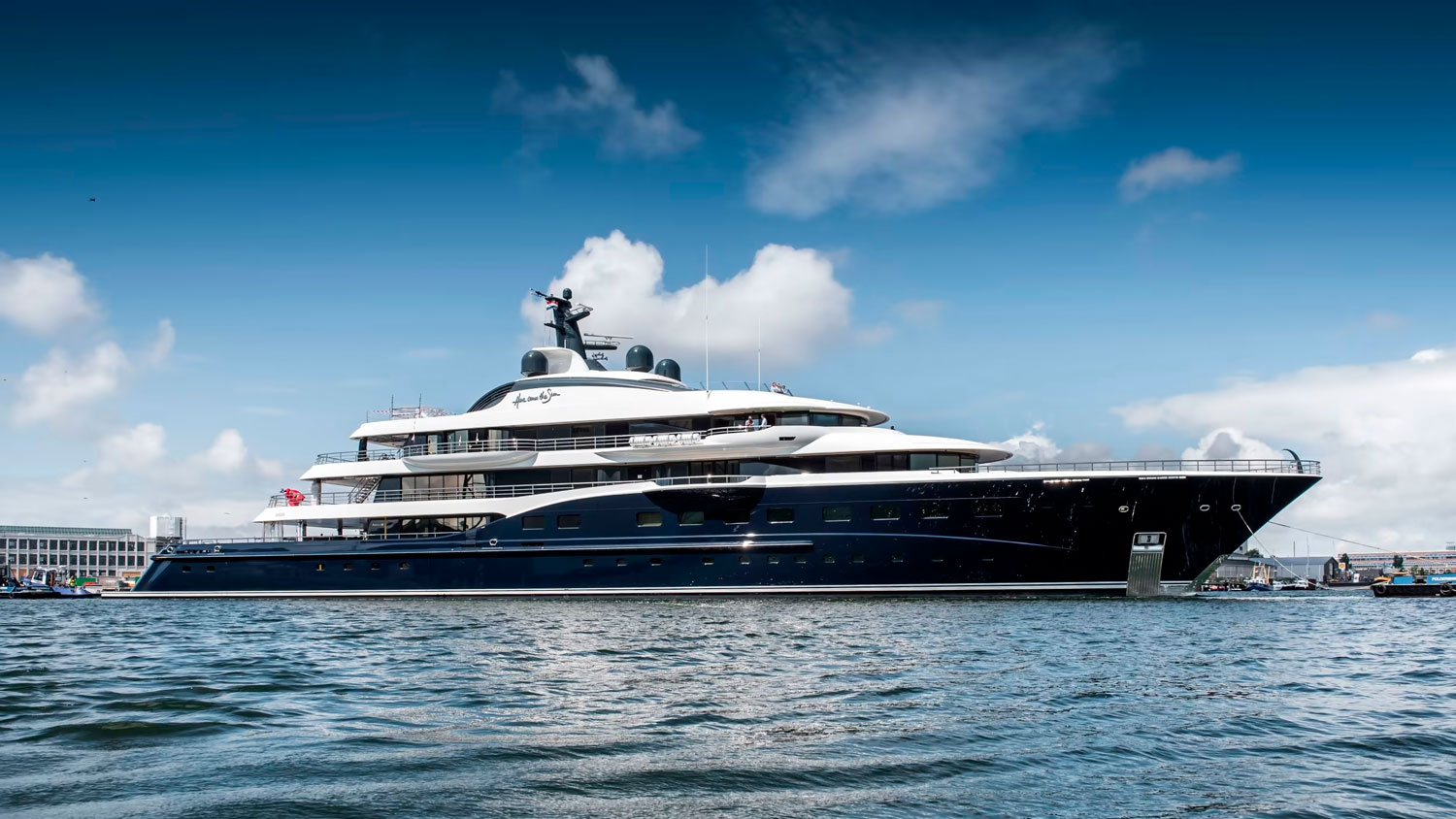 Here Comes The Sun
PROJECT X
This brand-new yacht seamlessly blends cutting-edge design, technology, and style with the highest standards in quality, service, and entertainment, making it an attention-grabbing masterpiece. Crafted by Golden Yachts and Ken Freivokh, its design is a meticulous collaboration with the Massari Design studio, enriched by the owner's valuable input.
The interior bathes in natural light, creating an unparalleled connection with the surroundings. This is exemplified by the remarkable glass elevator and atrium. The yacht also features a private owner's deck with a jacuzzi, sun lounging terrace, and breathtaking views from full-height windows in the master suite and lounges. On the main deck, a spacious pool graces the aft deck, accompanied by extensive sunbathing areas and a bar.
PROJECT X can accommodate up to 12 guests in nine cabins, each uniquely designed with its color scheme. Moreover, guests can take advantage of the expansive full-beam office/conference room on the upper deck, complete with separate PA/secretary facilities and panoramic views. The sun deck houses an exceptional enclosed gym with a day room, direct access to a generous jacuzzi area, and sun pads. A staircase leads to a welcoming beach club, featuring a sauna, hammam, and a massage/beauty room, as well as a seating area, bar, and TV entertainment space.
Guests on board PROJECT X also enjoy exclusive access to a 10-meter Onda Limousine tender and an impressive 9-meter Pedrazzini Vivalle classic tender.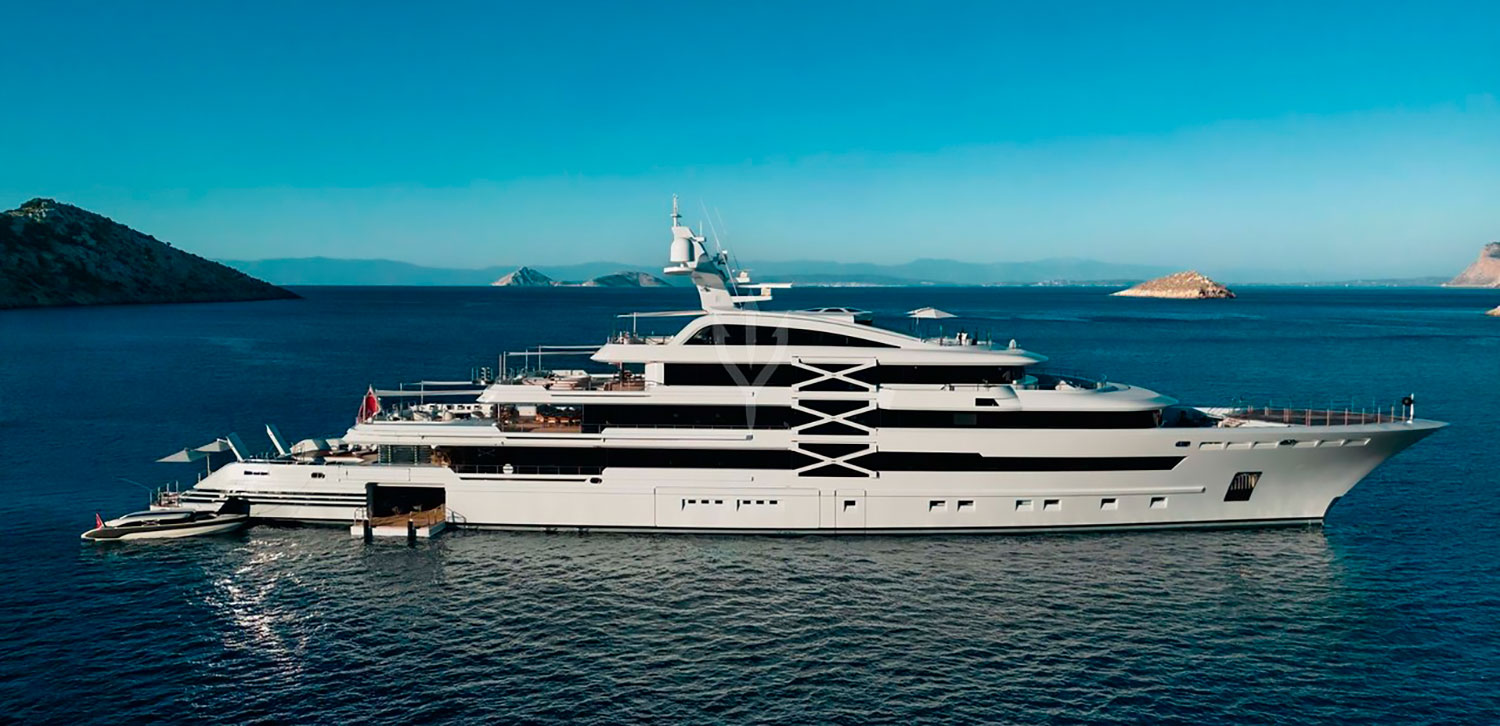 Project X
B2
Crafted in 2009 and meticulously refitted in 2019 by the renowned German shipyard Abeking & Rasmussen, the 85-meter/280-foot B2 (formerly known as C2), boasting 2,150 gross tons, ranks among the most alluring yachts available.
Elegance and exceptional craftsmanship define every inch, with Mark Berryman's neutral interior design creating an inviting atmosphere. B2's distinctive layout can comfortably house 31 guests in 15 staterooms—a rare and highly sought-after feature in the superyacht realm.
Having had only one owner since its inception, motor yacht B2 has been exceptionally well-maintained, benefiting from a rigorous upkeep regimen. In 2019, she underwent an extensive refit that extended her hull by 8 meters/25 feet, added two new cabins, and introduced a spacious pool, beach club, and tender garage, among other upgrades.
A glass-encased elevator serves all guest decks and the sun deck, ensuring easy access for guests. Her expansive deck areas offer multiple options for lounging and socializing.
Beyond featuring a jacuzzi on the sun deck, a sizable swimming pool on the main deck, and a retractable outdoor cinema screen, B2 also boasts a capacious, luxurious beach club with two fold-out balconies for al fresco living.
With a transoceanic range of 6,475 nautical miles and a zero-speed stabilization system updated in 2019, B2 represents a contemporary, impeccably maintained choice in the global yachting market.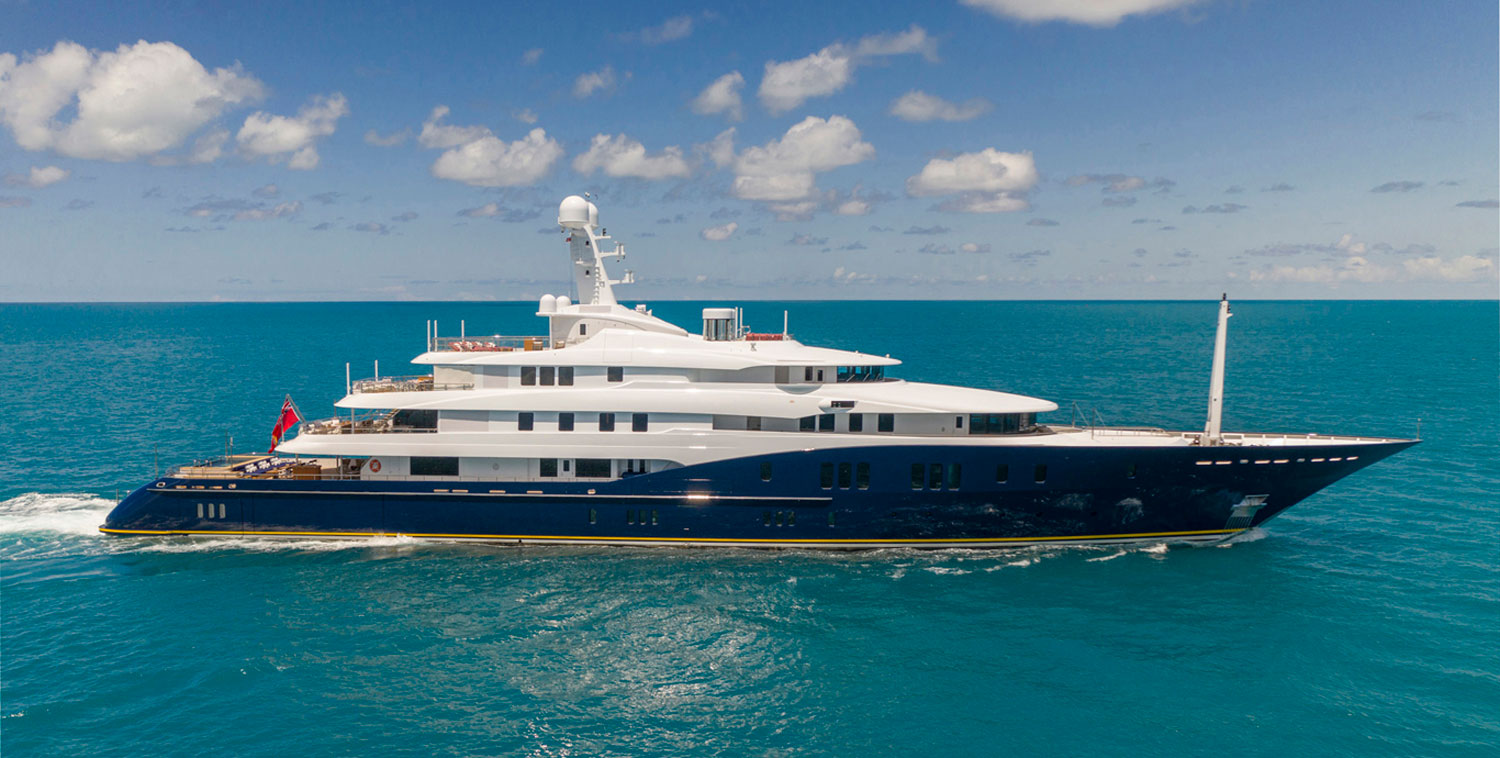 B2