Bespoke Audio
For those not so worried about silence and more interested in sharing music and entertainment with their friends, Rolls-Royce's Bespoke Audio system has been specially calibrated for the unique configuration of the Rolls-Royce Dawn. Finely tuned by expert Rolls-Royce audio engineers, Bespoke Audio is the most exhaustively designed automotive hi-fi system ever developed and has been minutely calibrated to compensate for the dual personality of Rolls-Royce Dawn.
Whether the roof is open or closed, Bespoke Audio ensures perfect acoustic balance and performance. Audio engineers were consulted throughout the design process of the car on the effect proposed changes may have had on the performance of the audio system – a practice unparalleled in the automotive world.
Sixteen individually-tuned speakers, with both theatre and studio settings, deliver a pure 'larger than live' sensation. Two bass speakers located in the boot complement seven tweeters meticulously placed throughout the cabin. The system utilises a highly sensitive microphone to constantly monitor ambient exterior noise, subtly adjusting the volume and tone settings accordingly to ensure the system delivers consistent perfection. The technology complements this, with frequency and phase correction for individual speakers eliminating potential loud and dead spots caused by outside influences.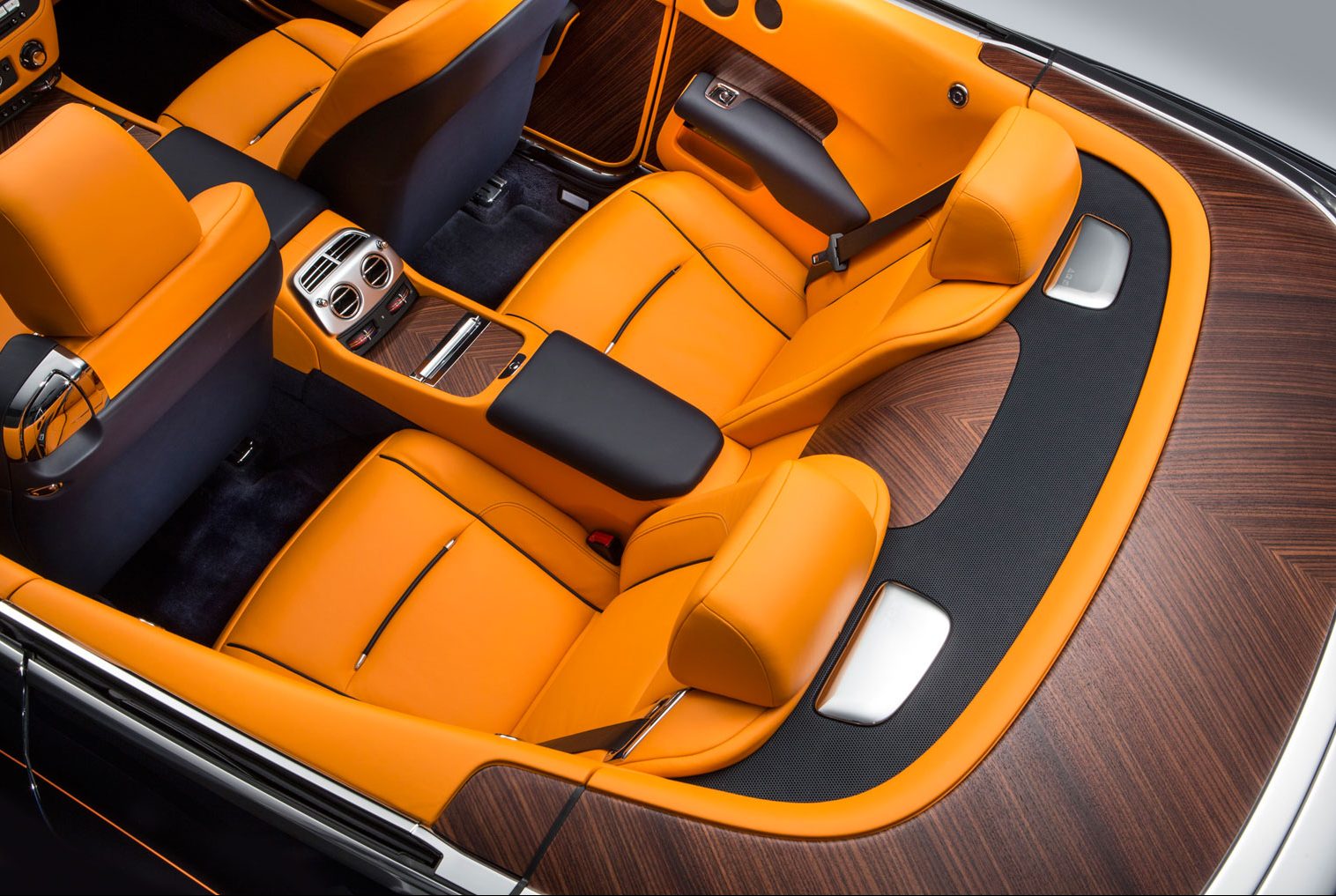 Engineering a new Dawn for open-top motoring
In addition to the undisputed leaps forward made in the engineering of soft-top cars by the Rolls-Royce team, the new Rolls-Royce Dawn also introduces several other tailor-made engineering innovations.
The challenge in designing any convertible lies in retaining a high degree of torsional rigidity throughout the body while keeping weight down. Torsional rigidity is vital to minimise the scuttle shake associated with most convertible cars and to help maintain the car's dynamic composure.
Extensive testing and research were carried out before the engineering team were completely satisfied. Tens of thousands of kilometres were driven over rough road surfaces to help identify and eliminate potential problems. The result is a chassis that makes the Rolls-Royce Dawn the most rigid four-seater convertible available today.
A newly designed suspension configuration takes care of the specific behaviour of this open top motor car in the areas of body stiffness and mass distribution, guaranteeing ultimate cruising comfort and the expected Rolls-Royce 'magic carpet' ride.
Fewer aerodynamic lifts in front and rear and a lower centre of gravity, in combination with newly designed air springs and active roll bars, deliver surprisingly agile handling capabilities for this super-luxury boulevardier.
The flared, sensuous rear flanks of the Dawn indicate a rear track that is 24mm wider compared to Ghost, giving Dawn a lower, sleeker profile. In addition, the car's wide hip not only adds to the seductiveness of the car, its broad shoulders underline the masculine muscularity and strength of the vehicle, helped by the 180mm shorter wheelbase.