A spectacular restaurant in the village of Polignano a Mare, near Bari, in Italy
Eating is not only about satisfying the desire or need to eat or to spend a good evening with friends. Eating is about caressing the senses, being pampered, living a unique experience. That is why one of the most beautiful restaurants in the world is the Puglia Grotta Palazzese in the picturesque town of Polignano, in the province of Bari, in Southern Italy.
A cave overlooking the sea, a magnificent view of the blue and blue very celebrated and sung by the son of this land, Domenico Modugno. The location had been inhabited since the Neolithic and was once a Greek colony. The restaurant itself might have been in used since 1700s when local nobility gathered there to do pretty much the same we'd like to do there today.
Grotta Palazzese is the ideal place to spend a very special evening, a romantic dinner, or to celebrate an important event.
And you will certainly remember the atmosphere of this place, which is rightly listed among the most beautiful restaurants in the world.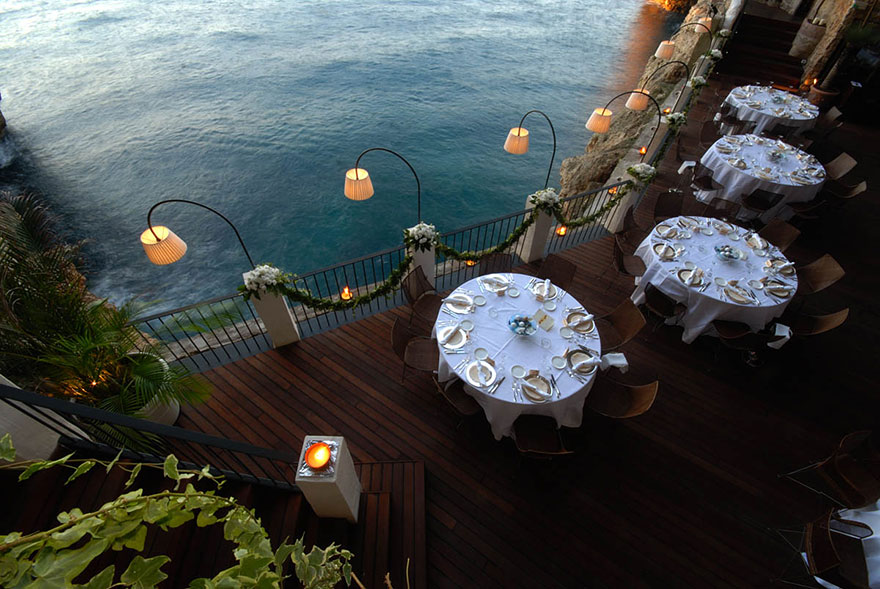 Grotta Palazzese, One of the Most Beautiful Restaurants in the World
Disney fairytale setting, with the sea embracing the view, rock walls naturally complementing and welcoming the visitor, candlelight to complete the picture, perhaps with the help of a full moon or a starry summer sky. And menus with highly refined cuisine. In short, evocative and magical atmospheres recreated in the cove of the cave.
Seafood recipes obviously prevail in the variety of recipes offered, because here the scent of the sea is the master, while the waves recreate a melodious and caressing background. The colors of the expertly composed dishes is a treat for the eyes as well as the palate. Those who come here, in short, have a real experience.
Every chef would like to cook for the guests of this location, re-proposing in their dishes the colors, scents and suggestions of a place kissed by nature.
This exceptional restaurant can accommodate up to one hundred and fifty people in a place that, although outdoors, is sheltered from the vault of the cave. On one side it overlooks the sea, with a splendid view of the coastal landscape and the marine horizon; on the other, towards the larger cave, the cave itself being composed of two caves of different sizes.
The entire terrace also includes an area with more reserved seats. The view from the terrace is absolutely breathtaking. It is open from May until October and strict clothing rules are followed. Reservation is necessary, since the restaurant is full any day of the week.

Practical Information
Via Narciso, 59
Polignano a Mare (Bari) Puglia
Phone:  +39 080 424 0677
Email:
For more information, please visit www.grottapalazzese.it